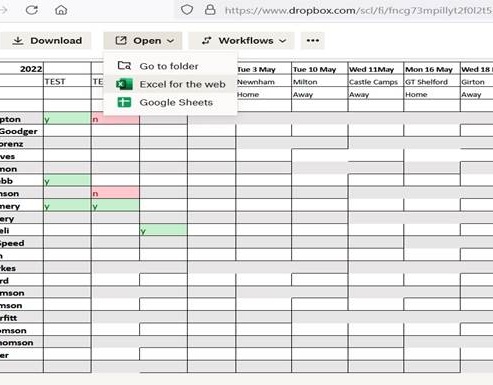 Our method of signing up for matches has changed slightly for 2022. The following is the instructions for accessing and using the document.
Firstly click on this link to access the dropbox service.
https://www.dropbox.com/scl/fi/fncg73mpillyt2f0l2t5p/Book.xlsx?dl=0&rlkey=fgjqibz4y83gl2q6cosx6xh0y
When using this system you will always be given the option to create an account or sign in.
Please always use the sign in option using the following credentials:
E-mail              [email protected]
Password        CUP1234        [note – CUP is upper case)
Whenever using these credentials you will be offered the option for them to be saved. This is not a mandatory requirement but feel free to save them if you wish.
If you do not save the credentials the password will always be included in the instructions in this e-mail and on the website. Please never attempt to re-set the password yourself as it will mean that nobody else can sign in.
Once you are presented with the availability form please click on "OPEN" and then select "Excel for the web"
You should now be able to click on whichever date/game and enter either Y for available or N for not available.
Immediately following your input of Y or N you will need to click the enter key – the selection will then turn either green for Y or red for N.
Once you have finished entering your details you can simply just close down the web browser tab.